Our simple guide takes the mystery out of shopping for a wedding gown designed in lace, the most romantic and oh-so fashionable fabric choice of brides for centuries.

The tradition of lace, from the enormously popular floral design of Alencon to the tiny dots of Swiss lace, remains popular with brides today.

No wonder! Lace, the most feminine detail, instantly adds real romance to any wedding. The trick is to not over due the amount of lace you add to your wedding dress, veil or train. 

Too much lace on your wedding dress can draw attention to figure flaws. Just the right amount on your wedding dress plays up your assets.

Lace that is handmade will drive the price of your wedding gown sky-high.

Lace that is machine made is much more affordable and can be just as pretty! Even close up, few people can tell the difference between hand-made laces from the high quality of modern machine-made laces.
Alencon (al-ON-son) Lace: distinctively French needlepoint lace with a delicate floral or leaf design on a fine, sheer net background outlined with heavy threads or chords. The technique is called re-embroiderery. Traditional and formal wedding dresses often use Alencon lace on the bodice, skirt and long train. It's a timeless and beloved lace for bridal gowns with a delicate quality ideal for adding embellishments, such as beading, pearls or sequins, for a dazzling touch. But it is also magnificent plain.


Battenburg Lace:  noticeably heavy lace made by mixing stitching patterns of linen braid then connecting them with decorative linen stitching. Sometimes sewn with beaded or sequin trim. The pattern are often floral or geometric designs. Sometimes, this lace is called Mezzo Punto or Renaissance Lace.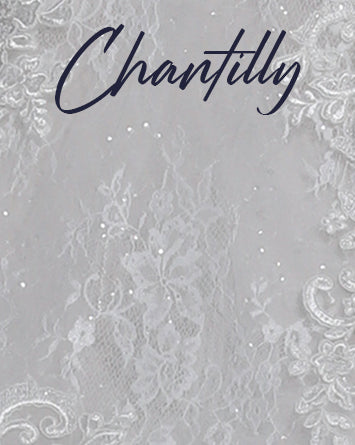 Chantilly (shan-TILL-ee) Lace: elaborate French floral or ribbon lace on a net background outlined in heavy silk thread to form a web-like pattern. Soft touch. And so delicate! town in northeast France, best know for the handmade bobbin laces. The half stitch is used, in place of the more solid whole stitch for the delicate designs of flowers caught together by flowing webs that give a fragile ethereal quality of gauzy trelliswork. It was the favorite of Marie Antoinette who was guillotined in 1793. Show in my collections plain or beaded.
Dotted Swiss Lace: tiny circles of flocked fabric over netting. Dainty look and less formal than many of the traditional laces. Often used as an underlay to create a textured look.

Duchesse Lace: An irregularly spaced lace of floral design with a lot of raised work. Like it's name, rich and royal.

Eyelet Lace: typically cotton with perforated holes embroidered around the edges.

Galloon: double-edge lace with a usable border on both sides that can be separated for matching border trim.

Guipure (gwi-PURE) Lace: just a few threads connect a series of large motifs often flowers like a rose or geometric designs over a coarse mesh background. Modern brides favor Guipure lace because it has a more contemporary feel and look.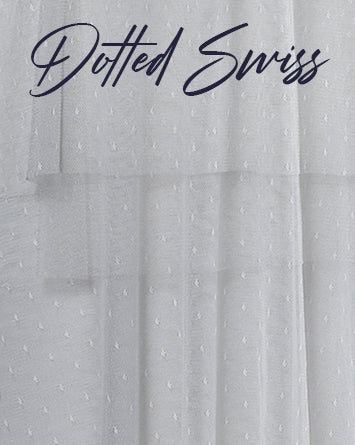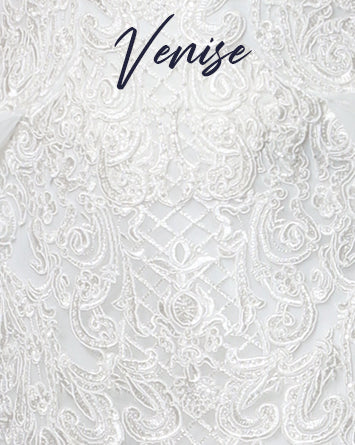 Lyon Lace: An intricate ornamental design delicately stitched onto a net background; the pattern outlined in silk or cotton. Named after a city in France famous for it's exquisite handmade laces.

Point D'esprit Lace: oval or square dots woven in a pattern on net fabric. You will often find designers use this type of lace under the top layer to create a very interesting and textured fashion look.

Ribbon Lace: defined by a net background with random pattern of ribbon sewn over.

Schiffli Lace: (SHIF-lee) a lightweight, intricate floral pattern embroidered over a net background. Very pretty and feminine.

Spanish Lace: Designed with flat roses on a net background for a traditional look.

Venise Lace: (ven-EES) is identified by a heavy floral or leaf pattern in needlepoint with motifs connected in lines. Select from a wide range of intricate and elaborate patterns. Also known as 'Venise,' a strip of embroidery-style heavy lace not attached to netting, often in floral and geometric designs. This type of lace is often used to be cut into appliqués or motifs to be hand-sewn onto the gown.